Why Choose Ali'i Window's Cleaning Services?
Professionalism
The Ali'i Window's team uphold strict performance and customer service standards. If your Business or Residence requires ongoing maintenance, you can rely on us to get the job done effeciently, effectively and with no hassel.
Expertise
We possess the experience and skill to get the job done right and we are committed to providing our Clients with the best our industry has to offer. With our belief in progressiveness we actively seek out new techniques and products to ensure tried and true results to boost efficiency.
Service with Aloha
We are a proud locally owned and operated business founded on sincerity, hospitality, and community. Ali'i Windows values your business as much as we value the Kaua'i Community. 
Satisfaction Guaranteed
We demand excellence in everything that we do and we stand by our work. You, as the customer, are paying for results, not for a company to just go through the motions.
May Lee – "They are reliable, detail-oriented and leave super clean windows. Plus, they are truly friendly. The full package 10 out of 10"
Kauai's Residential and Commercial Cleaning Experts
Ali'i Window Cleaning specializes in top-quality residential window cleaning. There is nothing like the feeling of perfectly clean windows on a bright, sunny day. Its like your home takes a breath of fresh air and invites the outside beauty in! We believe our Clients should have that feeling everyday and that is what we aim to provide.
We have two window cleaning packages for you to choose from. However, we always recommend our Premium Package for the first time through as it returns your windows to "like new" condition**.  Once all parts of your windows have been thoroughly cleaned, your view will be more easily maintained with the Basic Package.
The chart on the right explains all the different window cleaning packages that we offer. All window cleaning comes with our 100% Money-Back Satisfaction Guarantee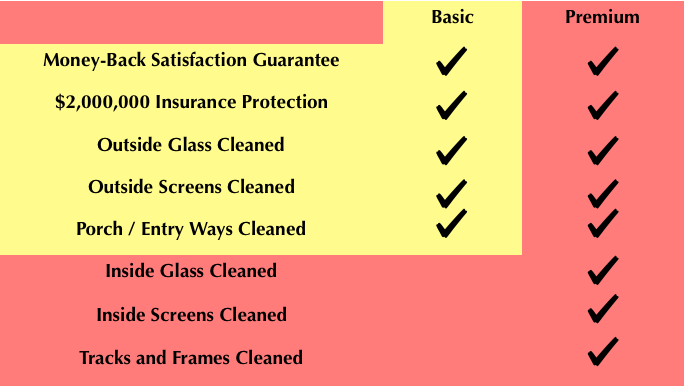 **Not all windows are created equal and do to the varying degrees of window condition Ali'i Windows is unable to guarantee that our treatment will make them as clear as you might hope. 
**Paint overspray, hard water stains, and construction debris removal is not included in the standard cleaning. If these conditions are discovered during the cleaning of the glass, we will discuss with you the additional methods that can be used.